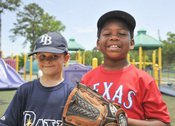 Meet Andrew and Trevor
Vicki Bills Higgins' daughter ('74 alum) was recently featured in a story on AL.com. We thought this worth sharing from our website. Click here and read how Suzanne and her husband Mitch brought some smiles to some special young people.
Check out the follow-up story here.