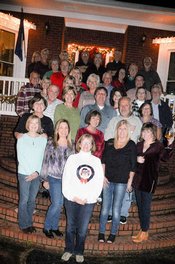 Class of `74 and Spouses/Significant Others
On Friday, December 1, 2017, nearly 40 classmates and spouses gathered at the home of Doris and Eddy Moody to celebrate the reason for the season. This was the most well-attended annual event so far!
In our usual fashion, friends brought treats to share with the group of a sweet or salty fashion and there was no shortage of food. The weather outside was suitable for our traditional Dirty Santa game to be conducted on the back deck. The gifts exchanged ranged from traditional tree ornaments to fun illuminated decorations and, as usual, there was a lot of stealing going on. We even had a re-appearance of a special ornament exchanged many years ago. (You had to be there but check out the pictures for full photo coverage.) We missed some "usual suspects" but were delighted to see some new faces this year.
Click here to see full photo coverage.
From the Class of '74, a very merry Christmas to all our MHS friends!