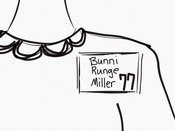 Make sure to write your class year on your name tag!
As you know, we have a great night in store for all you 18-year-old-wannabees beginning at 4:30 PM on Saturday, April 23, at the Eagles Lodge in Forestdale.
We have come up with a bit of an agenda so you will know what to expect.
Our Little Red Photo Booth is back by popular demand. She'll be onsite around 6PM and will be there for two hours so make sure and take advantage of this opportunity to have some fun with your friends.
This year we will repeat our door prize drawings for cash money! We will begin at 6PM and draw for a prize each hour.
6:00 - $25
7:00 - $50
8:00 - $75
9:00 - $100
We may even have more prizes at the end of the night so make sure to hang around to win!
Class pictures will be taken from 7:30 to 8:30 (or as close as possible to that) beginning with the Class of 1970.
Mark the date, get all the details here, register now and join us for a great evening of food, fun and fellowship!